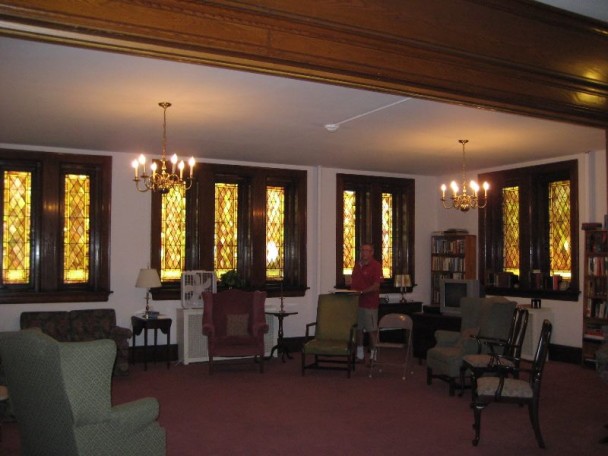 On the eve of Thanksgiving I'm mindful that expressions of gratitude are as wide-ranging as the blessings that lead to them.  If you shift that thought into reverse…the more things we count as blessings, the more often, deeply, and fully we offer thanksgiving.  Gratitude is a journey: each step propels us not just to the next one, but closer to our destination; the farther we go, the farther we get.
In the last weeks we have been witnessing an amazing transformation of the leaded glass windows in the Church School Hall Lounge.  What were once cracked, broken, dark, and dingy are now solid, sealed, healed, and deliver brilliant light.  Just some windows, right?  What is Flash-worthy about them?
In the spirit of Paul Harvey, here's the rest of the story…
Each day I beat a trail through the Church School Hall.  On the outbound trip from the pastor's office to the kitchen, the windows in the Lounge serve as the lights on the landing strip.  Before the windows were repaired that journey was an errand.  Now my commute to the kitchen is an Advent-like pilgrimage.
Beyond being more bright and beautiful, the windows are also more protective and efficient.  In the winter they rebuff stiff winter breezes while locking in precious heat.  In the summer they lock out sultry breezes and while welcoming air that renews and refreshes.  True transformations are marked by the union of art and science; form and function; and the beautiful with the practical.
The windows are also spiritually uplifting for they serve as powerful metaphors for the transformations that accompany change.  Each time I walk to the kitchen now, I am reminded of the many long-desired and much-needed changes happening in our midst that signal much deeper transformations.  Simple wood, glass, and lead now embody living hope.
Most profoundly the windows evoke gratitude because they are the product of many hearts, minds, and hands: the Saints who offered their resources to create a stained glass window fund; the Saints who spent hours interviewing artisans and collecting estimates; the Saints who (literally) pulled the windows out, boarded up the holes, and then re-installed the "new" ones.  Our windows represent the fitness of the body of Christ when its members exercise faithfully together…
And so on turkey eve I would offer that the turkey on the table is but only the surface level blessing.  As we express gratitude tomorrow, let us see beneath the table, and offer thanksgiving for all who helped bring our blessings to be, and for all of the light and hope we receive through them.  May your day and your way bring…
Peace,
Andy
---