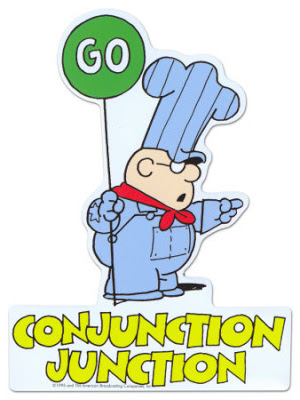 September 4, 2014
Conjunction Junction, what's your function?
If you were a child, or a parent to one, in the 1970's and 80's I can see you smiling, and I can hear you humming.  How many of us – 30 and 40 years later – still turn to tunes from Schoolhouse Rock when trying to recall lessons about grammar, science, history, economics, mathematics, and civics through rhymes and rhythms offered by cartoon characters who impart the wisdom of the ages in graphics and lyrics.
So, special Flash treat this week: click on any one of these for a blast from the past:
Conjunction Junction
I'm Just a Bill
The Boston Tea Party – No More King
A Noun is a Person, Place or Thing
Electricity, Electricity
Lolly, Lolly, Lolly, Get Your Adverbs Here
The producers of Schoolhouse Rock knew so well the timeless pedagogical secret to learning: we retain the lessons and laws of life best when they are embedded in images, stories, and songs that do both: speak to our minds and sing to our souls.
Well, the Israelites were schoolhouse rockers too!  This Sunday we'll hear one of the songs they wrote and sang so that they would remember God's Law.  With that teaser I commend the Psalm passage for your musical and educational edification – feel free to sing along!
This Sunday also begins our nine month journey of education and discipleship for all ages.  Each year we seek new and creative ways to present the lessons and stories in our sacred texts so they would speak to our minds and sing to our souls.  We do this with the great hope and deep prayer that the lessons and laws will remain in our heads and reside in our hearts.
And then there's the greatest schoolhouse rocker of all: Jesus.  He is the master of, and model for, how to embed God's lessons and laws in images and stories that speak and sing of God's love.
May God bless our learning journeys; that the lessons of God's love would remain in our heads, even as they reside in our hearts.
---