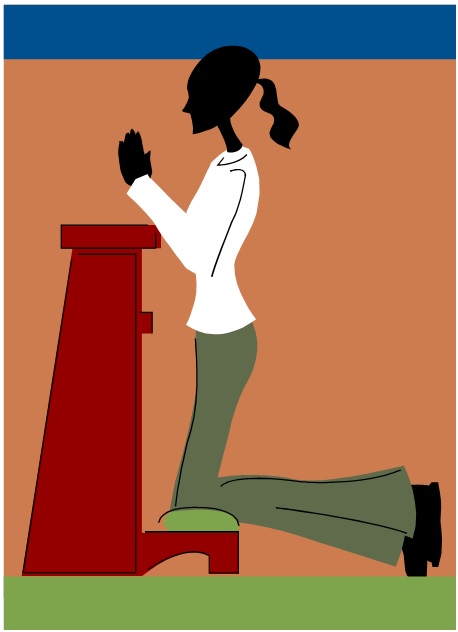 Summary
We experienced technical difficulties with our recording equipment for this week's sermon. The transcript is below.
Scripture
Please listen as I read from Paul's letter to the Romans 8:26-39 as interpreted by Eugene Peterson in The Message
26-28 Meanwhile, the moment we get tired in the waiting, God's Spirit is right alongside helping us along. If we don't know how or what to pray, it doesn't matter. [The Spirit] does our praying in and for us, making prayer out of our wordless sighs, our aching groans. [The Spirit] knows us far better than we know ourselves, knows our [most intimate] condition, and keeps us present before God. That's why we can be so sure that every detail in our lives of love for God is worked into something good.
29-30 God knew what he was doing from the very beginning. [God] decided from the outset to shape the lives of those who love him along the same lines as the life of the Son. The Son stands first in the line of humanity [God] restored. We see the original and intended shape of our lives there in him. After God made that decision of what his children should be like, … followed it up by calling people by name. After [calling] them by name, [God] set them on a solid basis with himself. And then, after getting them established, … stayed with them to the end, gloriously completing what … had begun.
31-39 So, what do you think? With God on our side like this, how can we lose? If God didn't hesitate to put everything on the line for us, embracing our condition and [being exposed] to the worst by sending [God's] own Son, is there anything else [God] wouldn't gladly and freely do for us? And who would dare tangle with God by messing with one of God's chosen? Who would dare even to point a finger? The One who died for us—who was raised to life for us!—is in the presence of God at this very moment sticking up for us. Do you think anyone is going to be able to drive a wedge between us and Christ's love for us? There is no way! Not trouble, not hard times, not hatred, not hunger, not homelessness, not bullying threats, not backstabbing, not even the worst sins listed in Scripture:
They kill us in cold blood because they hate you.
We're sitting ducks; they pick us off one by one.
None of this fazes us because Jesus loves us. I'm absolutely convinced that nothing—nothing living or dead, angelic or demonic, today or tomorrow, high or low, thinkable or unthinkable—absolutely nothing can get between us and God's love because of the way that Jesus our Master has embraced us.
Please pray with me
Loving God, open the hearts of those who listen, and fill me with your spirit so that the words that come forth from my mouth are the words that you have carefully selected for those who listen, and may touch each person in a way intended just for them. This I ask in the name of our precious savior, Amen.
On my knees
Prayer has always been a very important part of my life. I learned at a very early age that prayer is just a conversation with God, and one way to let God know that it is specifically God you are talking to, is to fold your hands, bow your head and get on your knees. Growing up in the Episcopal Church, I grew up accustomed to that small bench on the floor in which you kneel when you pray, as well as a kneeling rail along the chancel by which you take communion and/or receive blessings. I have to say that ever since leaving the Episcopal Church in my early 20s, that the one thing I surely miss about that church is the kneeling rail.
Perhaps it is because of this special feeling I get when I am on my knees that a song I heard recently has haunted me. How could anything that would bring you this close to a conversation with God be viewed as anything but holy, and wonderful, and awesome? Well, Frank Ocean had a different view. In the words of his song, Bad Religion:
Taxi driver
Be my shrink for the hour
Leave the meter running
It's rush hour
So take the streets if you wanna
Just outrun the demons, could you?
He said "allahu akbar," I told him don't curse me
"But boy you need prayer," I guess it couldn't hurt me
If it brings me to my knees
It's a bad religion
This unrequited love
To me it's nothing but
A one-man cult
And cyanide in my Styrofoam cup
I could never make him love me
Never make him love me
Love, love….
For those of you who don't know me, my name is Patty Gross. I am married to Sebastian Gross, and am a member in discernment waiting on ordination in the United Church of Christ. I am a member of the New Ark UCC, and have been splitting my time between there and Hanover since Sebastian and I got married, and I am thrilled to be bringing you this message today. When I was asked to bring you the message today and I looked at the lectionary texts for today, I could not believe my good fortune. The words of Paul to the Romans is one of my very favorite passages and has gotten me through some very rough spots. It gives a vivid description of the Holy Spirit being present in our lives, praying for us and reminding us that God sent Jesus as a sacrifice. Even today, the words "if God is for us, who can be against us" gives me chills. Then the story of Jacob, Laban, Leah and Rachel, it became easy to see how that might all fit together had me very excited. I mean, I can do that. Life doesn't always give you what you want, but hang in there, be obedient and God will provide along with the Spirit being a prayer partner, yes, I could make that work. Then I was struck by the words that Frank Ocean has about religion and I suddenly could not go there – because if it brings me to my knees, it's a bad religion.
When I was in seminary, one of the first lessons during orientation was letting us know that part of what it takes to be clergy is to move from an embedded to a deliberative theology. In the metaphor of being on my knees, me equating being on my knees putting me in a position to talk to God is part of my embedded theology. I don't know why I always thought that way – it was just the feeling I had when I was in that position and I never questioned it. The lyrics to the song made me move from that embedded theology to a more deliberative one, asking myself, "if someone can see religion as something that brings or knocks you to your knees, how could I have seen it as something so holy?" I could no longer take the position of on my knees for granted, because to some people, that is where they are knocked rather than someplace they get.
Think, if you will, about Jacob. He was in love with Rachel and offered to work for her hand in marriage. After seven years, he was shocked to find himself married to Leah instead, but Laban explained that by custom he could not give his younger daughter before the oldest one had been married, but if he would be patient and obedient, he could have Rachel as well. I don't know about you, but if after seven years of labor I was denied what I thought I had been promised, patience and obedience would not be my first responses. Jacob proved to have a bit more character than me at that point, and was granted his wish. Jacob was knocked to his knees by a custom that he was not aware of, and was patient and obedient in order to get what he was promised. It only took a week, but it cost him another seven years of labor. Allahu akbar – said Laban roughly translated means "God is good," Jacob probably responded, "don't curse me", to which Laban replied, "but boy you need prayer." Jacob was brought to his knees. Was it a bad religion?
So what is prayer, and what is the right way to pray? And if it brings you to your knees, is it bad religion? These are all questions that can be addressed in the Romans passage. See, for thousands of years the position of "on your knees" has been a submissive, humble position that shows reverence for one that is more powerful, beautiful, holy or famous than yourself. People have knelt before kings for permission to speak or be in their presence, before priests, pastors and bishops for blessings, and yes people kneel before God in order to converse. Being in a humble and submissive stance tells whomever you are kneeling before that you acknowledge their status and their power and your own lack of the same. If you go willingly to your knees in awe and wonder it is certainly different than having your legs knocked out from under you forcing you into a humble and submissive position. I was led to God and went willingly, but Frank Ocean made me realize that there are many who are not. There are many who are kicked around for who they are, what they do or who they love. There are many who are chopped off at the knees because someone does not like the way they dress or the way that they think, or the way that they got here. I am certain that each of you have either experienced that or know someone who has, and so if this awesome and holy position to me only reminds someone else of being slapped around and forced into something, what is the correct way to pray? How would someone like this commune with the Divine?
Paul says it so elloquently, and as translated into today's vernacular by Eugene Peterson, "If we don't know how or what to pray, it doesn't matter. [The Spirit] does our praying in and for us, making prayer out of our wordless sighs, our aching groans. [The Spirit] knows us far better than we know ourselves, knows our [most intimate] condition, and keeps us present before God." For Frank Ocean, The Spirit was moving in the taxi driver who felt compelled to pray for his passenger. I remember a time when I felt so unworthy of God's love that I couldn't even pray. Just like Frank Ocean when he says he could never make God love him, and I asked others to pray for me, but I felt so ashamed that I just knew that God was done with me. During this time, an amazing thing happened. I was having panic attacks, and I could feel the fear rising in me. About the time it got to <here>, it would suddenly subside and a calm settled over me. After several times and somewhat shaken by this, I picked up the phone and called a friend, and when my friend answered, she said, "you won't believe this Patty, but I was just praying for you." It then hit me. These feelings of peace and calm in the midst of one of the most frightening experiences of my life turned out to be other people's prayers, and the Holy Spirit reaching out to comfort me. When we don't know what to pray for, The Spirit intercedes for us. How awesome is that. I am able to pray, commune with the Divine and feel God's presence without being on my knees, without my hands folded, without my head bent down in submission. I can be screaming curses, I can be jumping for joy. I can have my eyes wide open and looking toward the sky and standing upright. God will be there. God will listen. God has sent the Holy Spirit, that everloving, ever being presence to walk with us, pick us up when we fall, and pray for us when we cannot. The Holy Spirit, God manifest on earth, the omnipresent component of God, the holy, awesome, and completely wonderful God. I just hope and pray that eventually Frank Ocean has a similar revelation. Allahu Akbar – God is great. Glory to God, and Thanks be to God.
---