Rev. Andrew Jacob – Pastor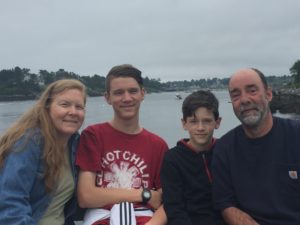 The Rev. Andrew Jacob has been serving as Hanover's pastor since July 2008.  Raised across the river in New Jersey, Andy came to Wilmington from Ohio, where he had served as pastor of a congregation in Cleveland for ten years, and then for three years as an Associate Executive Presbyter in the Presbytery of the Western Reserve.  His passion is for faithful and playful ministry that leads to transformation, justice, and full inclusion for all of God's children.  His weakness is for good seafood, any style of live music, and the dreaded New York sports teams to which he remains devoted.
Andy's wife, Nona Holy, also a minister, is serving as the Presbyterian campus pastor at the University of Delaware.  Their sons, Christopher and Jonathan, do their best to keep their parents in line and in shape.
You can reach Andy via email at pastor@hanoverchurch.org
Tim Arnold – Commissioned Ruling Elder

Tim Arnold has been a member of Hanover for 45 years and Commissioned Ruling Elder (CRE) since Spring of 2014.  He has served on Deacons, Elders (3 times) including clerk.  He helps the Deacons and can usually be found bringing food into the Food Pantry or assisting with various activities.  Tim is also serving the First Presbyterian Church of Port Penn as their part-time CRE and has been helping there since around 2011.  Tim is married to Becky Arnold (50+ year member of Hanover, who guides the Food Pantry and many other areas at the church.)  They have four sons: Mathieu, Ben, Peter and Mark, as well as 5 grandchildren.
Twyla Evitts
– Minister of Music and Church Administrator

Twyla has been both a church administrator and a church musician for more than 30 years.  She graduated from SUNY Buffalo with a music degree and from The University of Maryland with a degree in business.  She has been at Hanover since 2013 and loves being able to serve God and others through the church.  She has a daughter, Alexandra, and a son, Grant.  A few of her favorite things are having friends over for dinner and cards, epic adventure movies, and spending time with her children.
Herman Pulliam – Sexton

Herman has been a member of Hanover for 30 years and enjoys working here as Sexton.  He came to Wilmington, Delaware, as a child, and has lived here his whole life.  Herman is retired military from the Army National Guard.  He and his wife Marjorie have three children and three grandchildren.  His favorite hobby is being semi-retired!
Jerri Harmon – Child Care

Jerri has been professionally caring for children for over 30 years.  She enjoys working both at Hanover and at the Open Arms Academy.   She is the mother of three young adults.  She is quick to say that her favorite thing to do is shop!
Office Volunteers
We are grateful to the volunteers who staff the office Mondays, Tuesdays, and Thursdays.  Thank you:
Alice Cornelius, Ruth Howell, Ray Kirkpatrick, Katie Leep, Walter Scott, and George Turner