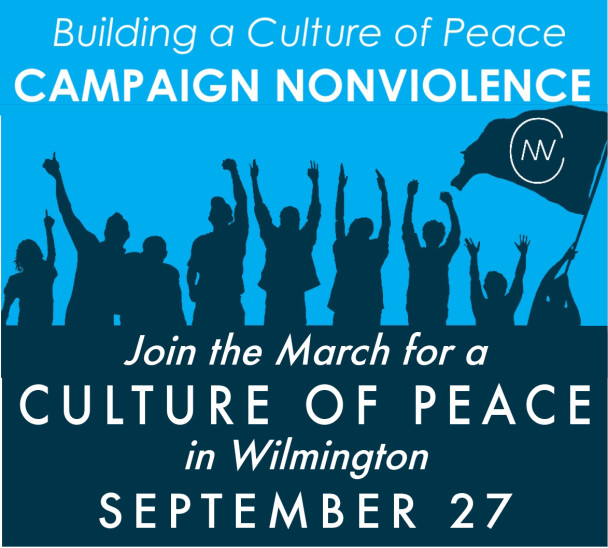 From the March for Peace Website:

Pacem in Terris, Wilmington Peacekeepers and the First Unitarian Church of Wilmington Social Justice Forum are organizing a March for a Culture of Peace in Wilmington on September 27. This march has two purposes: to speak out against gun violence in Wilmington, and to participate in the national Campaign Nonviolence Week.
The March for a Culture of Peace will begin at the corner of 18th and Washington Streets in Wilmington (southeast corner of Brandywine Park, near the war memorials) at 3:00 on September 27. Marchers should arrive by 2:45 for instructions and opening words.
The march route will follow Washington Street to 23rd, 23rd to Market Street, north to 25th St., and down 25th to Brown-Burton Winchester Park, where a rally for peace in our community will begin at 4:00.
Parking for the march will be on the streets along 18th, Baynard Blvd., and Washington St. in the vicinity of the starting point. The march route is just under one mile in length. For those needing transportation back to the starting point, buses and vans are being arranged
This event is non-political; candidates and officeholders are welcome to march in solidarity, but political activities are discouraged. We are aiming for a nonpartisan, neighbor-to-neighbor expression of Delaware's concern about violence in Wilmington. We welcome individuals, groups, faith communities, and organizations from across the state. By participating, you can join our growing coalition for a culture of peace.
Remember, showing up is the first step in healing our city. You may not live in Wilmington, but you can make a difference.
CLICK HERE TO VISIT THE PEACE MARCH WEBSITE
---