Hanover's Historic Stained Glass Treasure Renovation
Join our fundraising efforts and help renovate Hanover's historic stained glass window. See links to our GoFundMe campaign below!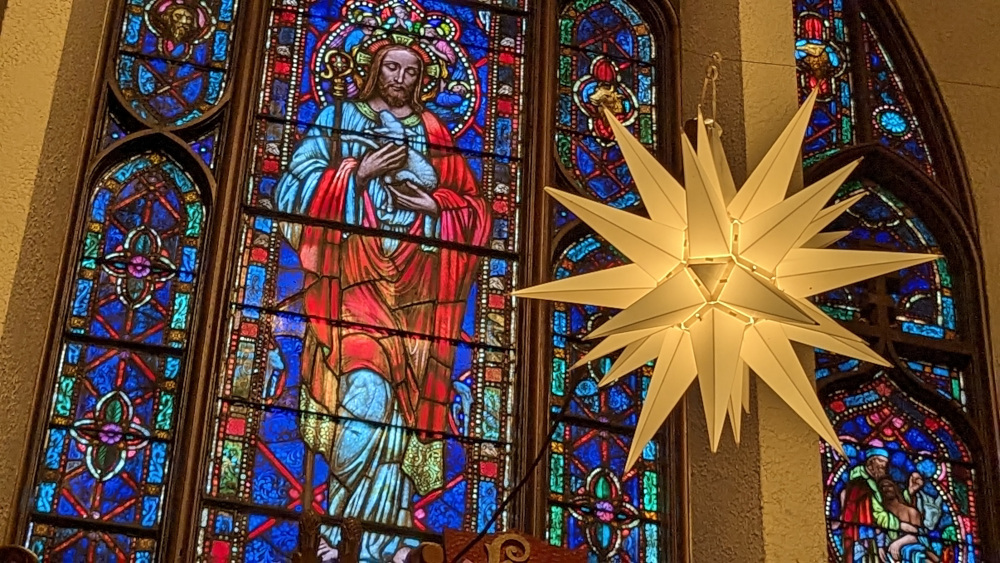 Hanover's Outreach
Hanover Church continues in its mission of offering hospitality and a welcoming hand. Along with Jefferson Street Center, our 501(c)(3) partner, Hanover has spent the last several years upgrading and repurposing our unique and multifaceted property to serve both our congregation and the community. Hanover's unique location allows it to act as a hub for the NW Wilmington community, providing community outreach through our Food Pantry and Clothing Closet, JB's Café and Hot Dog cart, and our gymnasium.
But there is yet another unique artistic and historical treasure we have to share with the community: our nearly 100-year-old Chancel Window that faces 18th Street and the parks along the Brandywine River.
The Window's History
The window is called "Christ, the Good Shepherd".
Built by the Willet Stained Glass & Decorating Company and dedicated in 1927, the window cost $2700, but its current replacement value would be well over $100,000. It consists of 5 panels and is roughly 10'x16' in size.
It is beautiful, with a southern exposure that permitted use of rich blues and ruby reds, and workmanship befitting medieval glass artists that have graced European Cathedrals for many centuries.
But in addition to its exquisite beauty, it has another unique claim to fame.  It was one of the few windows designed by Anne Lee Willet, who co-founded the Willet Stained Glass & Decorating Company with her husband in 1898.   Both were renowned artists, and the company was a leading stained glass window maker over the last 100 years.   Anne was a key partner in the success of the studio and took over management for 13 years after William's early death in 1921.   It was during this period that she designed this marvelous window for Hanover Presbyterian Church.  Those who are knowledgeable about stained glass construction revere this window for its design and craftsmanship. A widow, mother, entrepreneur, business owner, manager and artist – she was an impressive woman and role model worth recognizing and honoring. 
For over 30 years, this fantastic window has been hidden from street view behind a cloudy and yellowed Lexan protective cover. Inside the sanctuary the rich hues of the window had been muted. As part of Hanover's 250th celebration, we removed the old Lexan covering. We are now working with Willett Hauser to preserve, paint, re-cement, caulk, and clean the window and its frame.
A Neighborhood Treasure
The beauty and brilliance of the window will now be enhanced inside the church and once again visible from outside. We are exploring additional lighting to allow the community to view the window at night. And what a glorious sight that will be sitting in the park or driving along Baynard Boulevard!
The cost for Renovation and Refurbishment of "Christ, The Good Shepherd" window is approximately $15,000. We would love any contributions you could give to help us pay for this work, as much as we have loved sharing this treasure with the rest of our community.