Super Sidewalk Sale Success!
Hanover enjoyed its 2nd Mini Super Sidewalk Sale on Saturday, May 14, 2022. Visitors snacked on homemade brownies and cookies from the bake table, bought plants, flowers, and home goods, and enjoyed hot dogs and popcorn at JB's Cafe. The total earned on Saturday came to $2,580. Thanks to all who participated, and especially to those who worked hard to make it happen!
Quilted decor and bedspreads
These new, one-of-a-kind quilted items were donated for the Sidewalk Sale and are still available for purchase. Spruce up your home with fun seasonal table runners, placemats, and quilts! Purchase below using the PayPal "Buy Now" buttons.
Super Sale Online
Scroll through our sale items below. You can buy an item securely online through PayPal at the "Buy It Now" price by clicking the "Buy Now" button provided with each listing. If the listed price seems to high, make us an offer! Use the "Best Offer" form and you will be contacted if your offer is accepted.
Contact the church office to arrange an in-person viewing of any item or to arrange pick-up of purchased items (NO DELIVERY AVAILABLE).
All proceeds go to Hanover Church to support activities and programs that benefit the community. The wonderful and unique items in our SUPER Online Sale have been donated by people who care deeply about supporting the church, its work to serve people in the community, and its commitment to hospitality, inclusiveness, and racial and social justice.
Online Sale Items
Select a link in the list to jump to that item, or browse items on the page below.
---
Metal Art Sculpture – SOLD!
This creative one-of-a kind metal sculpture wall hanging was purchased at the Brandywine Arts Fair around 1985. It was crafted by Bruce Kelvin, who is a sculptor of copper, brass and other metals. Bruce Kelvin was the victim of a hit and run auto accident and paralyzed from the waist down. He managed to overcome his handicap and pursue his craft from a wheel chair.
Dimensions: 4 feet all around (uses one heavy-duty nail to hang)
Estimated Value: $175
Buy It Now: $35 – SOLD!
---
Classic Mirror
This beautiful, classic wood mirror will make a statement in any room – over a dresser or in your entrance way. It is in "like new" condition.
Dimensions: 25.5 inches wide by 49.5 inches tall
Estimated Value: $275
Or send us your Best Offer
---
Queen Anne Style Love Seat – SOLD!
This classic Queen Anne style love seat is not only beautiful, but it is comfortable, as well. There is some slight fading of the fabric, but otherwise, the love seat is in "like new" condition.
Dimensions: 54 inches
Estimated Value: $575
SOLD! To Best Offer
---
Lighted Curio Cabinet – SOLD!
This classic solid wood curio cabinet creates an elegant look with its decorative molding and glass shelves. The four glass shelves are five-millimeter tempered glass for safety. The lighting provides a beautiful display space for your most cherished collectibles, pictures, and gifts from family and friends.
The cabinet is in like-new condition. The dimensions are 79.5 inches at the highest crown, 32 inches wide and 14 inches deep.
Estimated Value: $725
Sold to Best Offer: $200
---
Pier 1 Dishes – SOLD!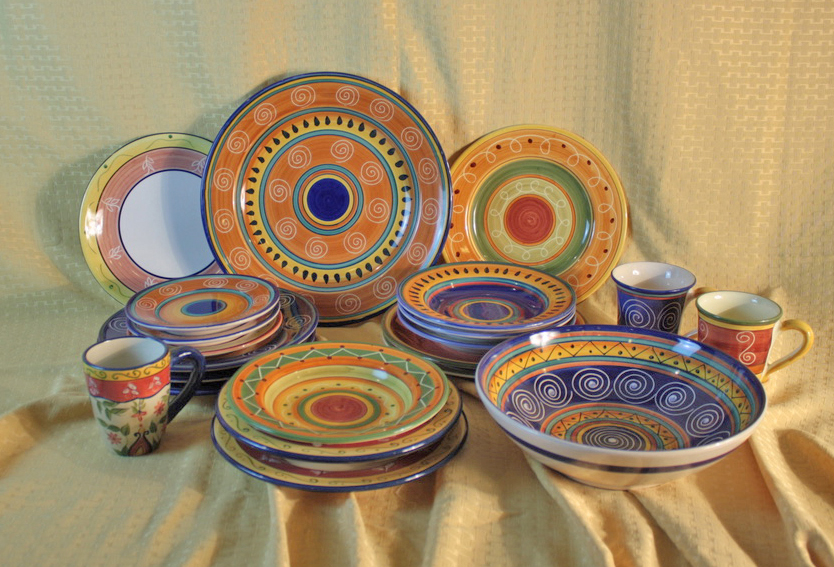 This is not your Grandma's china. Put yesterday away with fond memories and start creating new ones with these hand-painted dishes from Italy. They are beautiful, but also practical, dishwasher and microwave safe.
Today we embrace diversity and the joy of life with a variety of colors, backgrounds and textures. Bring this to your dinner table with this eclectic set of mix and match vibrant and colorful china from Pier 1 in Italian Swirl, Etrusco, and Vallarta patterns. There are so many colors and embedded designs that you can easily add additional pieces that would blend seamlessly or search ebay for missing matching pieces you must have.
There are 21 dishes. They include:
· Vallarta pattern plate, large soup bowl and mug
· Etrusco pattern plate, large soup bowl and mug
· Italian Swirl pattern plate, soup bowl and mug
· Large Italian Swirl platter
· Large Italian Swirl salad bowl
· 3 small Etrusco pattern plates
· 3 small bowls
· 4 plates
Estimated Value: $235
Buy It Now: $120 – SOLD!
---
Vintage Cabinet/Dresser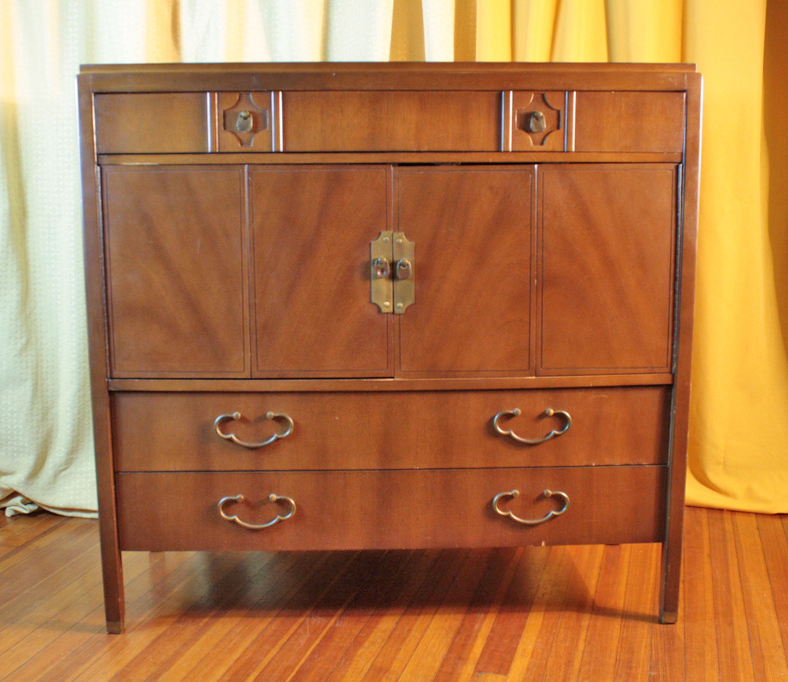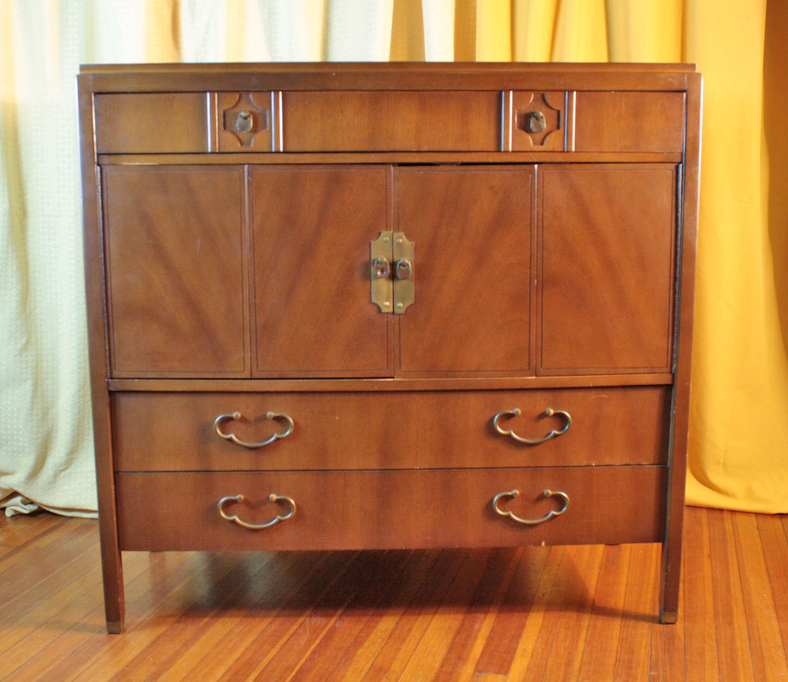 This beautiful mid-century modern "gentleman's dresser" was made by American of Martinsville. Founded in 1906, this Virginia furniture company was known for its quality wood bedroom furniture. The drawers are dove-tailed and the design is unique, with original hardware. Gently used – there are some minor signs of wear. This design is multi-functional and would be an asset in any room of your house or apartment.
Dimensions: 43¾ inches high, 45½ inches wide, 19 inches deep.
Estimated value: $750
Or send us your Best Offer
---
Wicker Furniture
Our collectible, vintage, wicker furniture is the finest available – made in the USA by Henry Link. Quality features include all wood construction with mortise and tenon joints, dovetailed drawers, multi-step hand-worked finishing, with back panels nailed and screwed.
This furniture is a welcome respite from a world of lookalike furnishings. It is a furniture collection that is a peaceful, yet jubilant celebration of the inherent beauty of natural materials. If white does not fit your décor, quality wicker can be spray-painted easily to fit your style.
Pieces are priced individually.
---
Wicker Coffee Table
The coffee table is in very good condition, with some wear at the bottom of one leg. It has a high-quality glass cover. The dimensions are 33 inches wide, 16 inches high and 19 inches deep.
Estimated Value: $175
Or send us your Best Offer
---
Wicker Hamper – SOLD!
The wicker hamper is in like new condition. The dimensions are 22 inches high, 12 inches deep and 18 inches deep. It could be a very handy decorative piece to hold laundry, or to hold some things more precious than laundry. How about stuffed animals or toys?
Estimated Value: $200
Sold to Best Offer: $40
---
"Song of the Whales"
Beautiful white bisque fine bone china figurine of a mother whale and her calf. Their eyes are accented by the classic 24K gold used by Lenox and the Lenox 24K gold etching is also on the bottom of the figurine. This figurine is from 1992, and is in excellent condition. It stands 6 3/4 inches high, is 7 inches long from nose to tail, and 4 1/2 inches wide from right fin to left fin. It is a very graceful piece with the ocean waves and the curve of the calf on its mother's back. This touching sculpture reminds us of the power of a mother's loving protection and would be an excellent gift for mom, or any lover of whales.
Estimated Value: $90
Or send us your Best Offer
---
"Coventry Morning" – SOLD!
This beautiful watercolor print by local artist Richard Bollinger is signed and numbered by the artist. It is double-matted in a warm pecan tone wood frame. Overall size is 37'x 20'.
Add a piece of the tranquil Chester County countryside to your home. The artist has captured one of the region's iconic views with this painting of a fieldstone barn and pond on a beautiful January morning. Whenever you need a moment of calm in today's world, grab a minute and look longingly at this peaceful and serene scene and breathe.
Estimated Value: $400
SOLD! To Best Offer
---